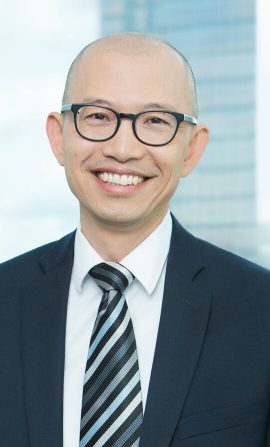 Kenny Tang,
CFA, CPA, FRM
Chief Compliance Officer and ESG Leader
As Chief Compliance Officer & ESG Leader, Kenny leads all compliance functions and ESG practices at Trans-Canada Capital.
Prior to joining the team in 2020, Kenny was Chief Compliance Officer at a global Canadian asset management firm specializing in equity and fixed income investments. Previously, he also worked for various organizations in the para-public and private sectors. He brings a strong knowledge of the financial industry and close to 20 years of experience in compliance, governance and risk management.
Kenny holds a Bachelor of Business Administration from HEC Montréal. He is a Chartered Professional Accountant (CPA), a Certified Financial Risk Manager (FRM), as well as a CFA charterholder. In addition to being a member of CFA Montreal's ESG Committee, Kenny is also a Board and Audit Committee member of the Foundation of Greater Montréal.
"It's by putting integrity, excellence and our clients' best interests at the forefront that we can earn and maintain their respect and their trust."